Representing Clients Statewide
The Law Offices of Marci R. Carroll has over a decade of attorney experience in divorce and family law.  We represent clients in family court, in adoption, and in child abuse and neglect cases throughout West Virginia.
Our family law practice includes
Divorce
Child Custody/Visitation/Parenting Plan
Child Support
Alimony/Spousal Support
Paternity
Modification, Contempt and Enforcement Actions
Adoption (grandparents, step-parent, and third party)
Domestic Violence/Restraining Orders
Appeals
Military Divorce
Dividing Businesses
Equitable Distribution/Division of Marital Property, Assets & Debts
Grandparent Visitation
Minor Guardianship
Annulment
Legal Separation/Separate Maintenance
Name Change
Prenuptial/Premarital Agreements
Pensions & Retirements/Qualified Domestic Relations Orders (QDROs)
Parental Relocation
Protecting Property Excluded from Equitable Distribution
We also have a limited practice in the area of child abuse and neglect and restrict representation to intervenors (such as relatives or other interested parties requesting the children be placed in their home) and parties who are not accused of harming the children involved. We are also pleased to offer mediation services for general civil and domestic relations cases.
Domestic relations law is quite fluid, increasingly complex, and frequently involves interstate jurisdictional issues. By concentrating only on divorce and family law, we are able to provide thorough, knowledgeable, and involved representation to our clients at one of the most stressful times in their lives.
Choosing a domestic relations attorney is a very personal and important decision. Make no mistake; the attorney you choose makes a difference.
Our experience and dedication to detail assists clients in avoiding some surprisingly common mistakes that occur in seemingly "simple" cases and which may cause unfair results, unforeseen pitfalls and potentially irreversible problems for them in the future.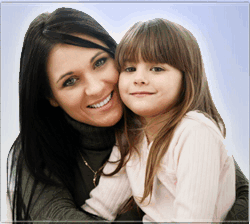 Don't trust your children & what you have taken your lifetime to achieve to an attorney who simply "also" practices divorce & family law. Put our experience & abilities to work for you to protect yourself & your loved ones.