Profiles
Marci R. Carroll, Esq. - Attorney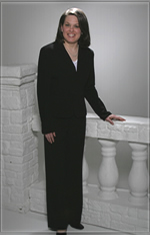 Marci R. Carroll, Esq.
Attorney & Counsellor
Trained Family Law Mediator
PROFESSIONAL:
LAW OFFICES OF MARCI R. CARROLL
Solo Practitioner (1998 – Present)
Fairmont, West Virginia
Trained in general and family law mediation
Concentrating in Divorce and Family Law (establishment and modifications and contempts)
Divorce, Annulment, Separate Maintenance
Paternity
Parenting Plans (a/k/a Custody and Visitation)
Child and Child Medical Support
Spousal Support (a/k/a Alimony)
Domestic Violence
Prenuptial Agreements
Grandparent Visitation
Minor Guardianship
Parental Relocation
Adoption
Name Changes
Guardian Ad Litem
Child Abuse and Neglect (representing children, non-abusive parents, and intervenors)
Pensions & Retirements/Qualified Domestic Relations Orders (QDROs)

MARION COUNTY DEPUTY SHERIFF'S CIVIL SERVICE COMMISSION
President (2004 – 2007)
MARION COUNTY CORRECTIONAL OFFICERS CIVIL SERVICE COMMISSION
Member (2001 – until effective abolishment with advent of state regional jail system)
FARRELL, FARRELL & FARRELL, L.C.
Associate (1997 – 1998)
Small/Mid-Size Litigation Defense Firm (primarily medical malpractice and products liability)
Huntington, West Virginia
LAW OFFICES OF JOHN L. DePOLO
Intern (1996)
Limited General Practice including a focus on Social Security Disability and Supplemental Security Income (SSI)
Clarksburg, West Virginia
RELATED:
LAWYERS.COM
Family Law National Attorney Panelist
WVU COLLEGE OF LAW
Legal Research and Writing Teaching Assistant (1995 – 1996)
Morgantown, West Virginia
HOPE, Inc.
Task Force on Domestic Violence
Legal Advocate Intern (Summer 1994 & Summer 1995)
Fairmont, West Virginia
MONONGALIA COUNTY YOUTH SERVICES CENTER
Children's Shelter Relief Worker (c. 1993 – 1994)
EDUCATION, HONORS AND ACTIVITIES:

POTOMAC MEDIATION SERVICES, DISPUTE
RESOLUTION SKILLS INSTITUTE, WEST VIRGINIA CENTER FOR DISPUTE RESOLUTION
Charleston, West Virginia
Basic Family Mediation Training, Certificate (2003)
WEST VIRGINIA UNIVERSITY COLLEGE OF LAW
Morgantown, West Virginia
Juris Doctorate 1997
West Virginia Law Review, Research Editor
Steptoe & Johnson Scholarship
Henry S. Cato Scholarship
George Tucker Brooke Fellowship
Volunteer Law Clerks Association, President 1996 – 1997

"In Camera Hearings Handbook" Committee Member

M.E. Lugar Trial Association, Member 1994 – 1997
Public Interest Advocates, Member 1994 - 1997
WEST VIRGINIA UNIVERSITY
Morgantown, West Virginia
Bachelor of Arts 1994
Summa Cum Laude
Graduated First in Class in Department of Political Science
Outstanding Senior in the Department of Political Science Award
University Honors Scholar
Dennis O'Brien Outstanding Senior Award (University Honors Program)
National Merit Scholarship (WVU)
WVU Presidential Scholarship
Phi Beta Kappa
Pi Sigma Alpha (political science honorary), President 1993 - 1994
Golden Key National Honor Society, Vice-President, Programming

Youth Services Committee, Chair
Golden Apple Committee, Co-Chair

Mortar Board
Order of the Grail (junior honorary), Vice-President
EAST FAIRMONT HIGH SCHOOL
Fairmont, West Virginia
Diploma (Highest Honors) 1990
BAR ADMISSIONS: 
Supreme Court of Appeals of West Virginia (1997)
United States District Court, Southern District of West Virginia (1997)
United States District Court, Northern District of West Virginia (1998)
United States Court of Veterans Appeals (1998)
PROFESSIONAL ASSOCIATIONS:

Marion County Bar Association (President, 2005 – 2006)
West Virginia Bar Association

Family Law Committee, Member
Alimony Formula Subcommittee, Member

American Bar Association

Law Practice Management Section
General Practice, Solo and Small Firms Division
COMMUNITY AND VOLUNTEER ACTIVITIES:
Marion County Chamber of Commerce
Fairmont Lions Club
VFW Certificate of Appreciation (2011)
Volunteer Mediator, Marion County Magistrate Court
Student Attorney Advisor, Marion County Teen Court (former)
Top of Page
Julie A. Triplett - Administrative and Legal Assistant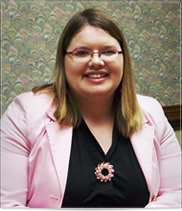 Julie A. Triplett
Administrative and
Legal Assistant
A Farmington native, Julie Triplett joined the Law Offices of Marci R. Carroll in October, 2009. She graduated from Fairmont State University with a Bachelor of Science degree in Business Administration. Before joining the Law Offices of Marci R. Carroll, Julie worked as an independent Sales Representative with AFLAC and obtained her license in the lines of life, accident, and sickness insurance. She earned the Fast Start Fireball Award at AFLAC and became a Certified Enrollment Specialist.
Julie is usually the first person people speak with or meet when calling or visiting our office. Julie serves as an administrative and legal assistant. As the initial contact for potential clients, Julie is responsible for taking basic information, preliminarily screening for potential conflicts of interest which might preclude representation, and scheduling initial consultations. She assists attorney Marci R. Carroll in client case management and various administrative matters. Her background and experience in business and insurance has proven helpful to clients in developing financial statements.
Top of Page
Judy J. Carroll - Administrative and Legal Assistant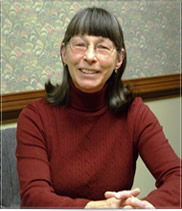 Judy J. Carroll
Administrative and
Legal Assistant
Judy joined the Law Offices of Marci R. Carroll in 2000. Judy serves as an administrative and legal assistant. Established clients and opposing counsel know if they call in with a question or problem, Judy may be able to help them; if not, she may gather some additional information and assesses the urgency and seriousness of the situation and coordinates any necessary appointments. Even though she is not a psychologist or counselor, Judy is also known to be quite helpful in addressing the emotional needs and problems of domestic relations clients; in fact, many discussions of this type that Marci has with clients actually originated with Judy.
A Fairmont native, Judy graduated from Fairmont State College with a bachelor's degree in psychology. She joined the office with no previous legal experience, but she already had plenty of experience as an administrative assistant for an electrical engineering company and as a regulations and contract coordinator for an independent oil and gas producer. Judy also has the distinction of having designed and of maintaining our office's potential client conflict of interest database. Of course, being Marci's mother is always a valuable qualification too! Marci claims that her most persuasive act ever was to get Judy to leave her job in a neighboring city to come to work with her. Judy claims that her most challenging and rewarding job is that of being "Marci's Mom."
Top of Page